Published by Angry Asian Man - May 4, 2010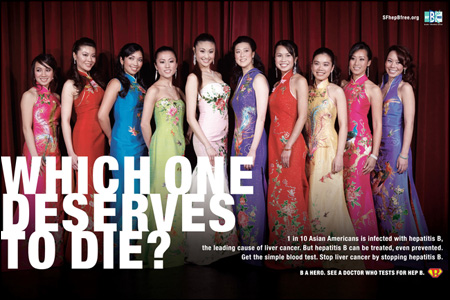 For the 15th Anniversary of National Hepatitis Awareness Month in May, San Francisco Hep B Free has launched "
Which One Deserves To Die?
" a provocative ad campaign alerting the public that 1 in 10 Asian Americans is chronically infected with hepatitis B, compared to 1 in 1,000 in the general population. Hepatitis B infection causes up to 80 percent of liver cancers worldwide.
The ads, produced pro bono by DAE Advertising, are the first major market health campaign in the country to feature more than 60 people from the Bay Area's Asian American community. The campaign will appear in ethnic and local newspapers, billboards, bus shelters for the month of May. They've also produced TV commercials, which will receive exposure on cable, broadcast and Asian television stations.
Consider how many Asians live in San Francisco. Health officials estimate that as many as 1 in 10 residents of Asian descent are infected with the virus, a percentage that contributes to the nation's highest rate of liver cancer. That's crazy. And the craziest part is, hepatitis B can be treated and prevented.
Here's a New York Times article on the new campaign:
In Ads, Plea for Asians to Get Tests for Hepatitis
. To learn more about the fight against hepatitis B in San Francisco, go to the Hep B Free website
here
. To see the campaign's print ads and PSAs, go here.